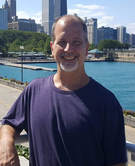 I believe in the mind/body/spirit connection and how anything can be achieved with the right tools and knowledge.

Keith MME, BSEH, AE-C, RM has a Masters in Metaphysical Education, a Bachelor of Science in Environmental Health from Illinois State University, is a nationally certified asthma educator and has been a Reiki Master and Instructor since 1999. Keith's main goal is to share with you knowledge from 30 years of professional and self education, firsthand experience, and feedback from hundreds of clients to provide tools for self care and optimal health.

Keith has a background in Environmental Health and has worked in the field since 1987 when he started his internship with the Indian Health Service in Wagner, South Dakota as an environmental health specialist for the Yankton and Santee Sioux tribes. From there he moved to Kiunga, Papua New Guinea to serve two years in the Peace Corps as a health nutrition educator as well as the Western Province Agro Nutrition Project Director. After meeting and marrying Enny in Jayapura, Indonesia in 1990 they both moved to Pacific Beach, WA as Keith was offered employment with the Quinault Indian Nation service unit. For 4 years he was the Environmental Health Specialist for the Quinault, Chehalis, Hoh River and Shoalwater Bay tribes and the Public Works Director for Quinault, then for 11 years was the Public Health Director for the Quinault Indian Nation.

In 2006 Keith began working at the Washington State Department of Health and currently Monday through Friday is a Health Services Consultant. He previously was a contract manager for the Tobacco Prevention and Control Program ('06-'10), Asthma Program Coordinator and Program Manager ('10-'14), and Financial Systems Coordinator ('14-'15).


---